Essentials for Empaths
Key essential oils, practices and protocols for Empaths: Creating clarity, strength, and resilience while embracing this divine sensitivity
Enroll in Course
Essentials For Empaths:
An online journey that provides liberating context, key essential oil protocols, and rich understandings for Empaths
Created for empathic individuals (including children and teens), and those who work closely with Empaths
The Four Principles
Protection

Clarification

Transmutation

Regeneration
These Four Essential Principles and areas of focus can transform an empath from over-burdened and confused to brimming with vitality and liberated clarity
Discover how to enhance, amplify and allow these Four Principles to flourish with the glorious assistance of key essential oils
In this four part course you will discover and integrate:
The Energetics of empathic abilities: The gifts and the challenges

How to detect unproductive energy exchanges before they progress; potentially damaging self and others

Top 12 essential oils for Empath: How and Why they work

How to untangle yourself from energetic enmeshment with others

Understanding the essential dynamics of Protection, Clarification, Regeneration and Transmutation and the importance of each of these for the Empath

Eight specific, potent point and oil protocols to support each of the four: Protection, Clarification, Regeneration and Transmutation

Discover how to call in and on your specific oil ally for any given situation

Begin to truly understand yourself as "catalyst" for healing-change and co-creation in this life

Assist others or yourself in moving from "stuckness," confusion and anxiety to lightness of being, clarity, and connected liberation
Shift powerlessness to true power
Grow deeper into your super-natural gifts
Develop a richer and sweeter relationship with the oils than you dreamed possible
Register now to receive the following bonuses...
Bonus #1: How to create room and body sprays to clear individuals and spaces
Bonus # 2: Releasing Fear bound in Ancestral lines; guided Meditation and prayer

Bonus # 3: Three essential daily practices for Empaths

PLUS, for those that took part in the 5 Day Essential Oils for Empaths Event and registered by 8 amFriday the 4th, you will also receive 4 MORE bonuses valued at $520.00.

TOTAL in BONUSES = $820.00!!!
The practical details:

The entire course takes place virtually so you can 'attend' from anywhere and complete the lessons in your own time

The 'lessons' are in audio, video and written format and are in snack sized pieces; perfect for integrating into a full and busy life

The program is released FRIDAY October 4th at 9am pacific; each week thereafter for 4 weeks you will receive 3 lessons per week~ each approximately 30 - 45 minutes in length

The weekly lessons include a context setting audio, a video demonstrating how to work with the key oils for that Principle, and a third audio or video offering other essential practices to support the Principle of that week

You can access all material through your mobile device, tablet or computer and most of the material is downloadable

The Bonuses are released over the course of the 4 weeks

You will not lose access to the content, and you have up to a year to complete the course
This course truly is essential for empathic individuals or those who work or live with Empaths
Your Instructor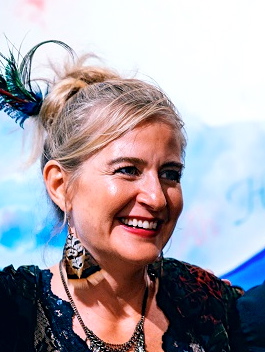 Tiffany Carole MS LAc, EAMP, draws on her background in science and naturopathic medicine, and merges this with her deep passion and developmental understanding of Chinese and energetic medicine. Tiffany is the creator and facilitator of Aroma Point Therapies, creator of the Master Healer program, teaches professionally accredited seminars in The Treatment of Addictions with Energetic Medicine, The Treatment of Mental and Emotional Conditions with Essentials Oils, and Pelvic Care with Essential Oils. Tiffany is adjunct faculty at Bastyr University in their Chinese Medicine department. She currently owns and directs Synergy Wellness Center a thriving clinic in Kirkland, Washington for 17 years, and is the creator of many online trainings including The Treatment of Pediatrics with Essential Oils, the Healing Oil Collective, and Essentials for Empaths. She is the co-creator of Blue Dolphin Essential Oils for Kids and Monara Distinctive Essential Oils supporting those in the healing arts with quality essential oils and education. Tiffany is a published author of Chinese and Energetic Medicine articles and is an activist of sorts in regards to personal and collective empowerment through natural medicine.
Tiffany currently facilitates trainings all over the United States, England and Sri Lanka. When she is not traveling she offers private healing sessions in Kirkland W.A.

Tiffany has an uncanny way of of honoring both the western and eastern philosophical mind and perceptions in such a way that allows transcendence of opposites while not denying the reality of polarity in the third dimension. Tiffany is a "teacher of teachers" taking under her wings the gifted, sensitive leaders of today and with whole heart in service, incubating their gestations and births of brilliance. She busts out of old and constricting paradigms without disrespecting our ancestral past. Tiffany joyfully assists healers of all varieties to step fully and magnificently into their super and subtle powers and brilliance.
---
Course Curriculum
RESOURCES & OTHER COURSE DETAILS
Available in days
days after you enroll
Week 1: Protection and Understanding the Energetics of Empaths and Empathic Abilities
Available in days
days after you enroll
Week 2: Clarification and Understanding the Empathetic Emotional Field
Available in days
days after you enroll
Frequently Asked Questions
When does the course start and finish?
The course begins Friday October 4th, with the material being released in weekly segments over 4 weeks. You have up to one year to complete the course and / or download the material so no rush... go at your own pace!
How long do I have access to the course?
After enrolling, you have unlimited access to this course for 1 year - across any and all devices you own.
Are there refunds if I am unhappy with the course?
For the prelaunch discounted specials, there are no refunds. This is because the discount that you are getting is pretty amazing and the value is enormous. The content is so very rich and helpful, and I know that you will be benefiting from it greatly if you engage.